IFB will host the release day blitz for Nina Lemay's Shameless. See details below:
Publication Date: August 18th 2014
Synopsis via Goodreads:
~New Adult Contemporary Romance -- recommended for mature readers~
Girls like me don't get happy endings.
I know what I am. At worst a cliché, at best a cautionary tale. I put an international border between me and my past, only to wind up working in a low-end titty bar. Even my excuse is as lame as it gets: I'm paying for college, getting my art degree from Montreal's most prestigious school. Although some days it becomes confusing: am I just a student who moonlights as a stripper, or a stripper who masquerades as a student?
But the inevitable happens and my two lives collide. And now there's one other person who knows both the quiet, antisocial Hannah and the sensual, shameless Alicia. One person who keeps my secret.
He's beautiful, he's sophisticated. He comes from the other side of life, the one where I'm not wanted or accepted. But he calls me la petite Américaine, and his hot, hot hands on my skin promise me things I long ago gave up on.
The problem? He teaches my Classic Photography class.
This is a standalone novel, no series, no cliffhanger.
Excerpt:
His hand slides, hesitant, across the edge of his seat as he leans closer. The black ink of the letters on his knuckles is stark against his skin.
"Show me," I say.
And he kisses me. Our lips don't meet smooth and choreographed like in movies. The stubble on his cheek grazes the corner of my mouth, leaving behind a burning trail, and then his lips cover mine. Nothing hesitant about them. Assertive, self-assured like I thought his kiss would be, the promise of those strong hands and broad shoulders and arrogant posture made real. But he's anything but arrogant. He gently nips on my lower lip and his hands caress my neck, my jaw, cup my face. He's holding me like I'm something fragile and precious.
I'm afraid to close my eyes.
He has that lavender scent, sharp and clean, with a note of wild muskiness lurking underneath when you get close enough—that note that's just him. I don't know what to do with my hands so I slip them under his jacket and put them on his waist, right above his belt. I finally start to sketch out what his body looks like under his shirt: sinewy and fit and hard.
His hands finally move on, mirroring mine, down to my bare belly exposed by my cropped top. The little hairs along my spine stand on end. An involuntary shudder courses through me, making my abs tighten and quiver. His hand finds the small of my back and settles there, guiding me forward with smooth confidence, pulling me toward him. The heat of his palm melts through my skin into my bones and up my spine, softening my muscles until my entire body feels like hot wax held together by a membrane of skin. I tuck my hand under his belt, just the fingertips—past the hem of his shirt where the pads of my fingers find hot, smooth skin over taut muscle.
He groans softly into my mouth. I lean in and slide onto his lap, barely aware that I'm clambering over a car seat. It's just so smooth and natural, the grooves of our bodies clicking together like a jigsaw puzzle. His hands on my waist, spreading goosebumps all over my belly, up my back and down my arms; then they move up, up, under my top, stopping when they find my bra. Pausing, hesitant.
I kiss my way along his jaw and his neck, peel away the collar of his shirt to continue down his clavicle. His hand settles over my bra and I can feel its heat through the fabric, a tiny little jolt of sensation that lights up my nerve endings like a Christmas tree.
My mind floats up, under the closed sunroof of the Audi, and watches me from there, impassive. I'm aware of everything I'm doing, too aware, but I don't stop. My body continues like an automaton, the lips, the hands, performing the motions. Like I'm a car on cruise control, easing into the familiar mode. I know what happens next.
A part of me, very deep down, hopes I don't.
Only one way to find out.
I go for his belt buckle, find it, tug on it. It yields with a soft clink.
And just as I'm about to stick my hand down his pants, he pulls away.
"'Annah," he pants. His hand slips out from under my shirt and dives down to catch my wrist. His fingers wrap around my wrist bone, strong and firm.
Maybe it's the touch that zaps me back into my body, disrupts my functioning. The false step that throws off the whole routine, the bad note that ruins the aria.
"What?" I whisper. My body's nerves settle into normal mode one by one.
"No."
"Why not?"
"This isn't right. This is… overstepping."
I sit back. I'm still balancing with my shins on his legs—kind of like at work when I lean in, my hair brushing over a customer's face, and ask in a seductive whisper if he wants another dance.
I blink at him in utter dismay. Thrown off. Tossed overboard into unfamiliar territory and I don't know what to do.
But I want to be doing this, I start to say. We aren't doing anything wrong. "I'm attracted to you," he says. His voice still holds a hint of breathlessness. "But then again, you already knew that."
"But I'm—" I'm attracted to you too. This much should be obvious.
"I know," he says softly. He lets go of my wrist and instead takes my hand between his hot, hot palms. He brings it to his lips. "But this isn't right."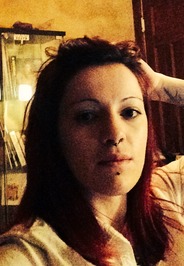 About the Author
Nina Lemay is a YA writer by day and author of sinfully twisted New Adult…well, also by day. She loves all things dark and edgy and never tires of tormenting her characters. While Nina is a fan of all things scary, Gothic, and fantastic, she doesn't shy away from a gritty contemporary romance when the muse strikes. She lives in Montreal, a city that never fails to inspire, with her partner and her dog.
ninalemay.com | twitter.com/NinaLemay
Thank you so much for helping me launch SHAMELESS into the world. Being a writer, especially an indie debut author, is often lonely and occasionally scary. All the support I've had with SHAMELESS just blew me away. You guys are amazing!
SHAMELESS is set in Montreal. Why Montreal, you ask? Montreal was the perfect setting for many reasons.
First… well, I've never read a New Adult novel set in Montreal. Actually, I haven't read that many novels set in Montreal at all. It's always a big city in the US, New York or LA or Chicago, and when the story needs a touch of exoticism, New Orleans. So I said to myself, how is Montreal worse than New Orleans? At least here we actually speak French, you know?
Montreal is a Canadian city, kind of on the small side (give or take 2 million people) and yes, it speaks French. French is the only official language of the province of Quebec, but in the heart of Montreal you can usually get by in English too. Montreal is known for a kind of libertine attitude and what we call joie de vivre—you gotta, when it's freezing nine months of the year. I took this picture in the middle of April, after I woke up to a surprise snowstorm (surprise!).
Good music (Montreal is home to the giant outdoor Jazz Festival and several others throughout the summer), good food (and I don't just mean poutine) and good nightlife is what it's known for. It also has a sort of European feel to it. This is from when I lived on the Plateau, aka the French-speaking hipster neighborhood par excellence:
Coffee shop on the Plateau:
In the downtown core, the area is more English and more touristy. And I didn't exaggerate: there really are strip clubs all along Ste-Catherine, the main shopping street of downtown Montreal. Here's one right above a teen clothing store!
Quebec City, where Hannah and Emmanuel go for the long weekend, is one of the oldest settlements in North America and the provincial capital. About three hours by car to the north of Montreal, Ville de Quebec has the look and feel of a majestic European city.
I went to university with many people who moved across the continent to go to school here, and I always admired (and was kind of envious of) the courage it takes. So when I wrote Hannah, a girl who's desperate to escape her high school years no matter the cost, I thought, what better place to run away to than Montreal?