Watcher and Firebird
by Orren Merton
Series:
The Sedumen Chronicles Book 5
Print Length:
314 pages
Publisher:
Darkling Books
Publication Date:
September 20, 2016
Firebird Alex didn't know much about the Nephilim until they assassinated her friend in the United States government, kidnapped the man she considers her uncle, and tried to murder her—twice. Now she's learned that they, and their leader "the Watcher," will stop at nothing to kill her, everyone she loves, and every Seduman on Earth.
Alex must stop their murderous plans even if it means compromising the heroine she's become.
About the Author
Orren Merton
started writing fantasy and science fiction at an embarrassingly young age. In high school, he picked up guitar and start playing up and down California in a few bands, culminating in his industrial rock band
Ember After
. During that time, magazines, developers, and corporations began to pay him to write and edit music software related articles, manuals, and books. Since then he has written the urban fantasy novel
The Deviant
and the science fiction novel
Skye Entity
before working on
The Sedumen Chronicles
, his current series of urban fantasy YA novels. He lives in Southern California with his family, pets, collection of sci-fi/fantasy memorabilia, and curiously large stuffed animal collection.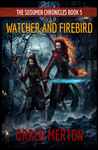 Watcher and Firebird
by
Orren Merton
My rating:
4 of 5 stars
First, I would like to thank the author Orren Merton for gifting me this book. I really enjoyed this book, but feel like I missed out, because I hadn't read the first four books. The characters are well developed and written. The storyline is good and I look forward to reading more from this author.
View all my reviews